CEMETERY COMMITTEE
The HongKong Japanese Club Cemetery Management Committe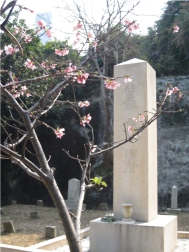 Cheery Blossom in front of 萬霊塔
A "Hong Kong Cemetery" the public cemetery is
located on a small hill in Wan chai where you can
see a view of Happy Valley Racecourse. A total
number of 465 Japanese who passed away from year
1878, Meiji to year 1975, Showa 20 lie at rest in the
cemetery. The oldest grave of Japanese here is
Mr. Yukawa's, a second lieutenant of Japanese army.
He had suffered from brain disease(related to plague)
while he was studying in France, and on the way back
to Japan passed away in year 1878, Meiji 11 in Hong Kong.

The plague became epidemic in Hong Kong during the
period from Meiji to Taisyo era, and many of the young
people died in 20's. This story tells you that in the era,young people went abroad after the policy of seclusion was released.

"萬霊塔" was set up at the top of the cemetery in Taisho 8 (1919) by a Japanese
charity Association in Hong Kong.

"萬霊塔" is carved on a stone pillar which is wrote by Otani Kōzui known as
Central Asian Expedition dispatched of Jodo Shinshu Honganji Temple 22nd chief
priest. Initially was located in So Kon Po (current Hong Kong S.A.R. Stadium
area), due to land re-adjustment, "萬霊塔" has been moved to current place by the
Hongkong Japanese Club in Showa 57(1982). After another large maintenance in
Heisei 4 (1992), a Cemetery Development Executive Committee (currently,
cemetery Management Committee) is established in July of Heisei 12 (2000).
In the same year, 1st memorial ceremony was held on the 29th September which
sponsored by The Consulate-General of Japan in Hong Kong, and since then, the
Japanese Club holds the memorial service in March every year.

The famous Kabuki Actor Mr. Ichimura and his wife donated 25 saplings of Kawazu
sakura from Kasumi Kaikan in Heisei 16(2004). Blooming cherry blossoms in the
beginning of spring tells you the spring came to the town.